A meeting for Boso Jamboree was conducted 13th(Wed) at Amatsu Shinmei Jinja . Boso Jamboree is a regional vitalization project in which extended area of Isumi, Kamogawa and Tateyama are connected.
We reviewed the "Live 0" Boso Jamboree event held with Boso Star Market on April 5, 2015 and discussed how to organize the next "Live 1" event on October 25, 2015 (Sun).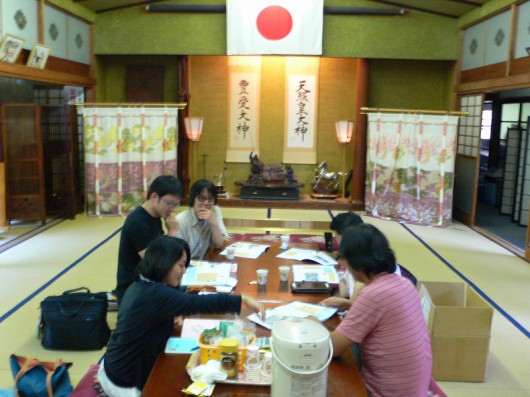 First, we discussed how to shape a character of the event in the circumstance where there are many market events as well as music events at many places.
1. Live sound and Live music
Using live music for dance performances, not to mention for live music performance.
2. Local artists' performance at Local stage
Artists living in Boso area perform their stage at Boso area.
3. Grand finale stage
All the artists who performed on the day stand on one stage together to show their performance with everyone. (The event doesn't end up with the listing of individual stage.)
4. Enhancing artistic quality
Making the even a place where performers aware to enhance each other's skills as "performance", and people can have an "extraordinary" experience.
Considering the above, we are also going to discuss on extending the event time to 10AM-8PM in order to enjoy "light" and "sound" as a stage setting in the darkness of night instead of only a day time.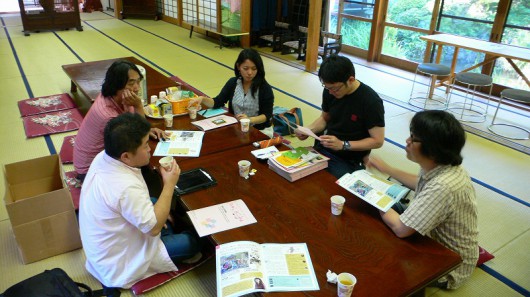 In addition, for the "Live 1" event on October 25, 2015, Jiyu-hiroba, a market event of Amatsu Shinmei Jinja, is going to be held at the same time.
This Jiyu-hiroba is an event where local people open a stall for flea-market, foods and drinks, and goods, and up to nearly 3000 people come to the market.
It is really grateful that this market is held simultaneously to create a connection with local people.
We, Isumi Life-style Laboratories are going to focus on "Boso Star Market, a market of specialty foods and goods by handmade/handcraft producers" and "Boso Jamboree by artists living in Boso for people who enjoy their life in Boso" as two aspects of activity to liven up this extended local area of Boso.
————————–




We are accepting donation for Boso Jamboree
*We are collecting donations for the operating cost of Boso Jamboree through "Chiba no WA Chiikizukuri Kikin (Chib no Wa community development fund)"
We welcome your donation.
( Zackey / Yasuko )

update : 2015/05/23 00:27

Category :
Diary