This was the first tour in 2014!
The theme of the tour was "Ecological Lifestyle."
The tour was full, and 17 participants joined the tour, which was more than the fixed number.
Many were from Chiba prefecture, but some also came from Tokyo.
The age range was wide from 20's to 70's.
We met at our office of Isumi lifestyle.com as always and got on a bus to start the tour!
Firstly, we visited a place "Kayuso", where a couple moved from Kawasaki-shi, Kanagawa enjoy their ecological lifestyle that is environmentally friendly.
This time, we heard their wisdom that is adopted in their daily life while they enjoy their lifestyle.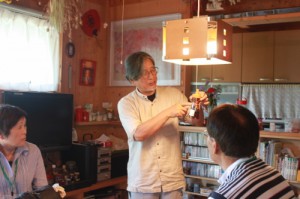 The most impressive words among many stories were "not to waste anything as much as possible" and "to reuse everything until it is no longer usable."
I felt it may be the lifestyle that is harmonized with nature.
They say "we are not stingy. We enjoy. "
After we heard a lot of stories at "Kayuso", we visited an activity base of "Kuwata, Satoyama no kai" for lunch.
(*"Satoyama" is a community forest where farmland meets the forest.)
Over the beautiful paddy field, there was a self-build cottage.
We had a "Satoyama lunch" there.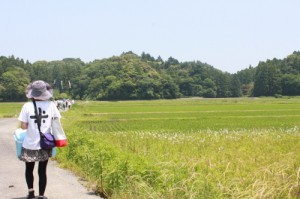 The menu was Futomaki-sushi and deli made by a group "Rakudokai" in which local moms and grandmas enjoy cooking local dishes. Plus, homemade pizza of a bakery, "Ansatoyama".
It was really a big portion and was tasty!
More than anything, eating outside in the nature brought an open atmosphere.
Everybody enjoyed their lunch.
After filling up our stomach, we walked around the Satoyama where conservation activity was taken place by "Kuwata, Satoyama no kai."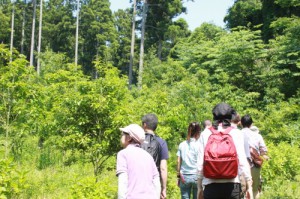 Some area was steep, but the view was nice and it was pleasant!
I didn't know there was such a nice place! It was new finding.
After the walk, we stopped at farmer's store and then visited Brown's Field.
We heard about their daily activities.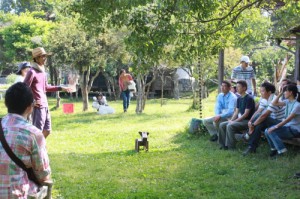 It was a hot day, but the time passed so quickly.
The participants say, "I could have talked many people. I talked closely with local people and felt the atmosphere of the Isumi. It was good" "I spent a very meaningful day" and "I enjoyed a lot." They are very satisfied.
(Chie /Yasuko)

update : 2014/06/21 03:50

Category :
Diary
,
event reports