Our NPO has a monthly subscription to Inakagurashi no Hon (Magazine for Country Life).
Sometimes they feature our tours or events, and our relocation consultation in their magazine.
Our organization was selected as No.1 in the "Sufficient service for the people who relocate" among 68 of "Supporting organizations for country life" in the east Japan.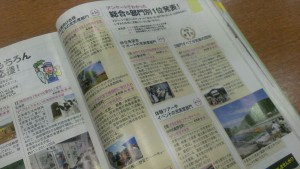 Isumi ranks number 37 on the "Rural city people want to live in most".
I thought Isumi is one of the cities where people draw attention.
Recently I feel more people are visiting our office to inform us that they had relocated already or seek consultation before relocation.
Before April, the beginning month of a year in Japan, people may put an end to their previous life or start something new.
More young couples of 20s and 30s as well as single people come to seek our consultation.
Someone who participated in the seminar at Furusato Kaiki Shien Center, an organization which supports people who want to move to rural region, the other day may visit us in the near future.
A family, a couple in their 30s with a kid, who visited us on the other day may move to Isumi in the near future. They were saying that they had read a lot of information through internet or magazines, but once they physically visited the place and talked, the image became more realistic.
The other asked about property, grocery, driving, and childcare etc.
I myself visited this NPO of Isumi lifestyle Lab. four years ago before I moved Isumi.
It may require courage and be difficult to take action now.
But just visit here without hesitation.
( Chie / Yasuko )

update : 2015/02/19 16:21

Category :
Diary
,
information