Rice is a staple food for Japanese since ancient times.
If there is no rice, there is no my life! I visited "My NO RICE NO LIFE Exhibition" by Mr. Asao Obata.
He is a creator of "Kome-T (Rice design T-shirt)" of which catch phrase is NO RICE NO LIFE.
The event venue is "ji ji no ie – kura gallery jiji"
A variety of Kome-T and aprons etc. were arranged in the lovely space where an old Japanese storehouse was renovated.
This is a romper for a small child. The letter of "kome (rice)" on the bright color is new as a small child's clothes.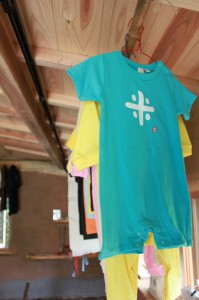 Also, there was a children's T-shirt with printed words of "kome no chikara (power of rice)."
It was with full of message but with sense of fun.
Kome-T was familiar to me, but there were still some designs that were new to me.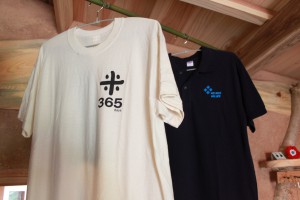 You can easy order Kome-T choosing your favorite color.
"Red Kome-T may be good. It is rare." Ordering T-shirt of your own color will be nice.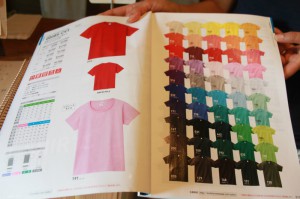 There were also messages from people who exercise a life style of NO RICE NO LIFE in the exhibition.
I was indulged in reading them.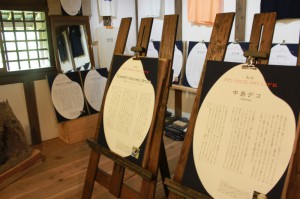 Not just Kome-T, but the works of his wife who is a handmade seal artist were exhibited.
You may know this already in Chimachi Market.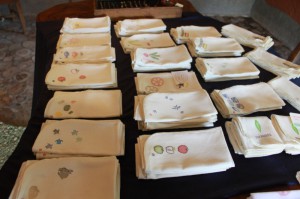 Mr. Obata (also known as Kamekichi) created the first Kome-T as a gift to people who supported him and friends who helped his farm work.
Now this Kome-T of Kamekichi makes the 10 year anniversary.
Why don't you visit the exhibition to see and buy his Kome-T at this memorial year.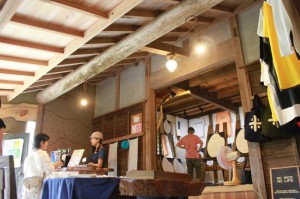 This is the schedule of the exhibition. Workshops or shops may be your additional interest.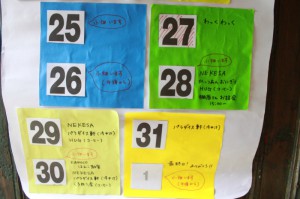 Today's shop was "Hiyajiru (cold soup with rice)" with your own toppings. It was the best in this hot summer season!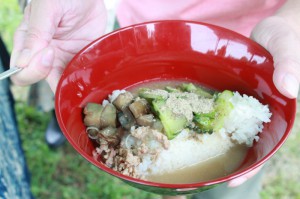 ***********************************
My NO RICE NO LIF Exhibition
Duration: till August 1, 2014 (Fri) 11:00 – 16:00
Location: ji ji no ie, kura gallery jiji (Kuwata 1815-1, Misaki-machi, Isumi-shi, Chiba-ken)
Website of Kamekichi Original T-Shirt
( Shige / Yasuko )

update : 2014/07/29 16:43

Category :
Diary
,
town events