Taitosaki Toudai (lighthouse) offers an unparalleled view in Isumi.
The members of local Lighthouse Club work to improve the environment of the area, and now the place is one of the sightseeing spot in Isumi.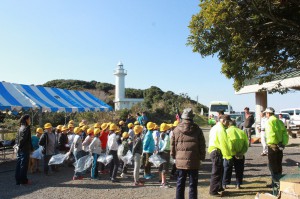 During this season, the local elementary school students and adults work together to improve the landscape of the lighthouse every year.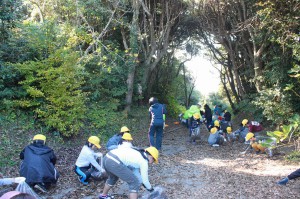 They collected fallen leaves and took them to a composting area.
The fallen leaves collected by children last year is used as a fertilizer for planting flowers this year.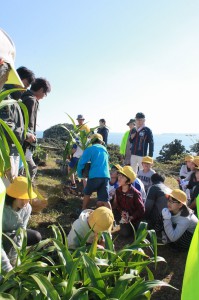 This year they planted "Lilium maculatum" and "Crinum asiaticum" which were designated as nationally protected species.
Under the instruction of elderly men who were good at gardening, children carried the big Crinum asiaticums and planted them.
The holes to plant the plant had been already dug by the adults considering children's capacity, so that the children still had too much energy left.
I felt it was a precious experience to have an opportunity for adults and children work together across generation at this time of age.
Compost of fallen leaves made by children last year is passed to the next grade this year.
The plants planted by the children this year will show us beautiful flowers next year.
The same will be done next year. The people's activity will be piled up every year and the plants and flowers will gradually be a part of scenery of Taitosaki Toudai
When you visit Taitosaki Toudai, if you know these people's daily activities,
the lighthouse may look brighter than usual.
Now, it is very pleasant to visit lighthouse on the day of the clear autumn sky!!
How to get Taitousaki Toudai
Drive National Route 128 towards Ohara, and turn left at "Taito Toudai Iriguchi (Taito lighthouse entrance)"

update : 2014/11/30 16:27

Category :
town events