On the last weekend of summer vacation this year, we are having charity summer concert called "Vocal festival Misaki" at Misaki Fureai Hall.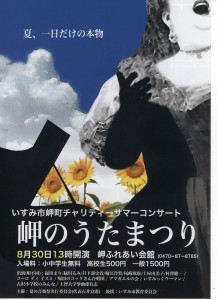 Blue sky and sunflowers make this flyer looks pretty nice.
Its also nice that flyer says "this is real in this summer".
There various artists are coming over for this concert, Mari Midorikawa is popular soprano singer who plays in Japan, also other countries. Her powerful voice and live band will amaze you for sure.
This is a good chance to listen to opera songs concert in Isumi town.
It will be one of good memories in this summer!
**************************************
Charity summer concert in Isumi
Date: 30th August,2014
Time: starts 13:00
Place: Misaki Fureai Hall (720-1 Higashi-Nakataki, Isumi city, Chiba pref.)
Fee: adults/1,500 yen high school students/500 yen and free for kids
Performers:
Mari Midorikawa (soprano singer)
Rumi Midorikawa (Piano)
Fumitaka Kusakabe (Bass guitar)
Youga Horie (Guitar)
Takuya Ozaki (Piano)
Hiroyuki Matsunaga (Drums)
Yumiko Tsuchiya (Piano, Vocalist)
Ken-ichi Murasawa (Vocalist)
and so on…!
(Aiko)

update : 2014/08/19 17:24

Category :
event news