We started the Isumi-oriented Boso Lifestyle Project last year.
This is a collaboration project with industry, government and academia, and Musashino Art University and Isumi city play a key role.
The project was restarted for this year.
Senior students of Inoguchi seminar of the Department of Design Informatics visited Isumi city with Professor Inoguchi and assistant Ms. Masuda to plan what we do for the project this year.
Staff of Isumi Lifestyle Laboratory and the city officials of Isumi (Mr. Ogata and Mr. Kumabe, Relocation and Entrepreneur Support Group, Fishery, Commerce, Industry, and Tourism Division) showed them around proposed sites for the project.
The places we looked around are also recommended tourist sites of Isumi.
Why don't you visit them?
Minato-no-asaichi (Morning Fish Market)
We met at Ohara station and visited Minato-no-asaichi (Morning Fish Market), where we met Mr. Shoji, Manager of Fishery, Commerce, Industry, and Tourism Division, who was helping the market event.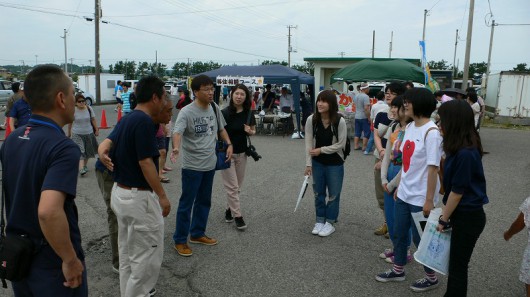 Everyone was enjoying food and shopping.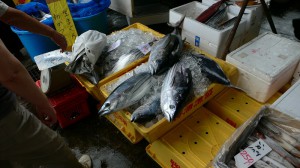 The concert of brass band club of Ohara high school was also held at the site.
This market is held every Sunday at Ohara fishing port and visited by the many customers from the urban area.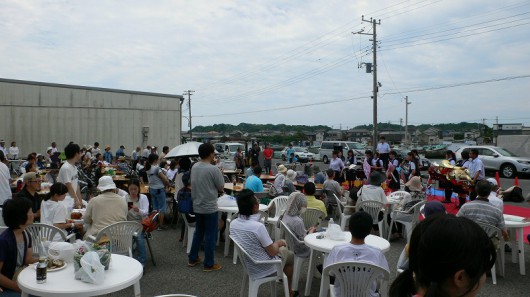 Ohara Hachiman-jinja (shrine)
After the market, we went to Hachiman-jinja (Shrine).
It was known as a location where TV drama "Summer Nude" (Fuji Television Network) was filmed.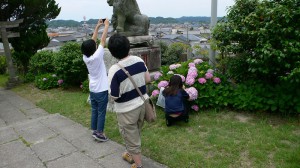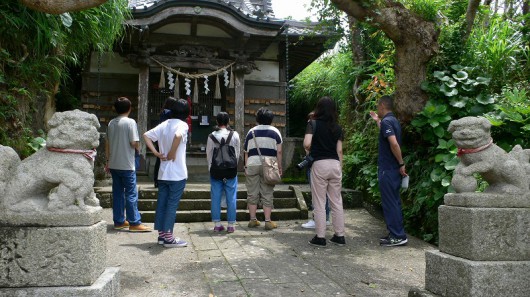 Goheiyama-nouen (farm), Yamada
Goheiyama-nouen (farm) is located in the inland Yamada area, west of Ohara.
They grow blueberries and figs during this season, so we did blueberry picking.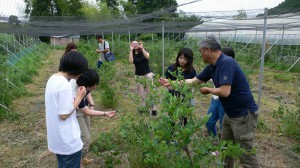 They also challenge "solar sharing," solar power generation project for the agricultural farm. They installed solar panels above the blueberry field, and while adjusting the shaded area, they grow blueberries and sell electric power.
They also have a cottage for tourists. Why don't you stay there when you visit Isumi?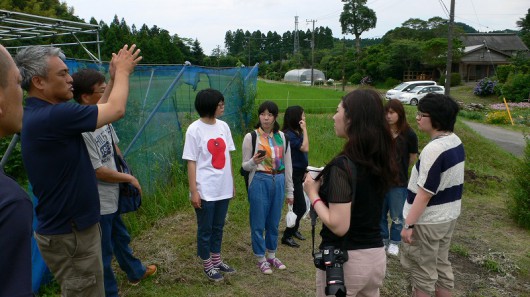 Kuniyoshi Station, Isumi Railway
Then we moved to Kuniyoshi station of Isumi Railway.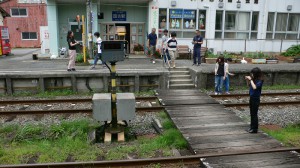 What is special here is an open field behind the station.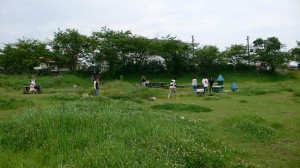 This place was also used for the filming of NHK drama "Nanohana Line ni Norikaete" .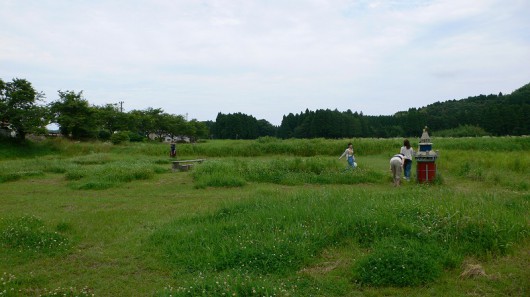 Luckily, a train came. As they seldom see a local train, everybody was taking photos of the train.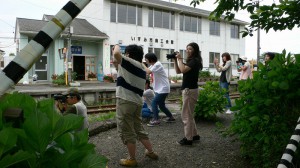 Takahide Dairy Farm
Next, we visited Takahide Dairy Farm, where they practice sustainable dairy farming and are also known for its cheese factory.
The farm is used for filming commercials sometimes instead of Hokkaido to save costs.
Mr. Kenji Takahashi, the owner, explained about the farm.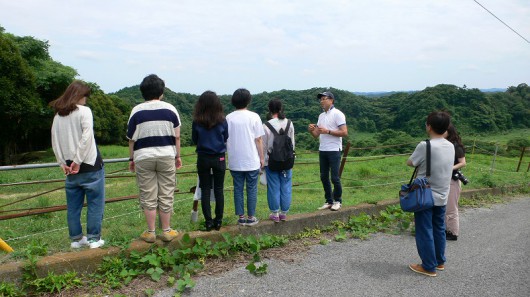 Then we took a rest at a gelato shop in the farm that opened recently.
As it was a hot day, everybody enjoyed the break time with gelato.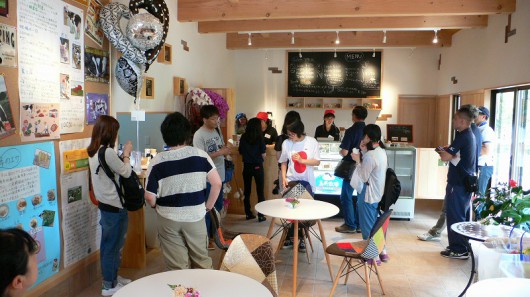 Hoshizora no ie & Chiisana toshokan (small library)
Next, we visited a shared house "Hoshizora no ie" and "Chiisana toshokan (small library,)" where an old Japanese style house and a barn in the property were renovated, respectively.
We could not have entered the shared house for the privacy of the residents, but could see the library.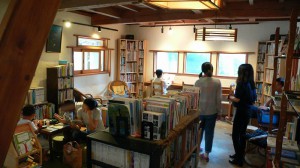 Ms. Chie Mitsuhoshi, a former staff of Isumi lifestyle laboratory, who manages the shared house and library explained to us about the place.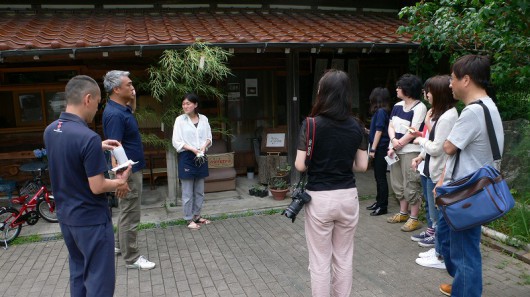 *Please be noted that you cannot enter the shared house except for the time of events. You can visit the library during operating hours.
 
 
Former Chimachi Nursery School
We then moved to Former Chimachi Nursery School near "Hoshizora no ie"
Some of you may already know that this is the venue of Chimachi Market.
As we had little time, we only walked around the yard.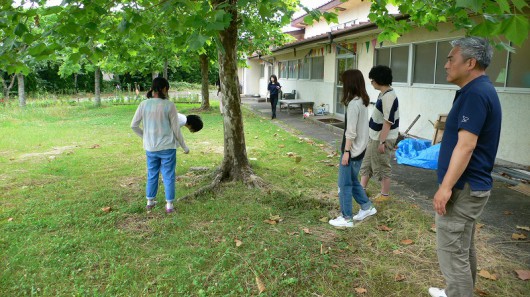 Brown's Field & Jijinoie
Next, we visited Brown's Field, where Ms. Deko Nakajima, a cooking expert of macrobiotics and her husband Mr. Everett Brown run.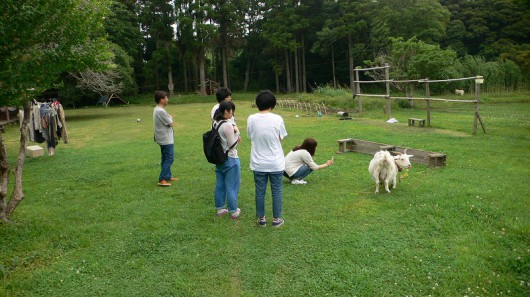 They make use of an old Japanese style house to create an Ecovillage like place. Many visitors come from Tokyo and overseas.
Ms. Deko was at the place luckily when we visited and we could have talked to her.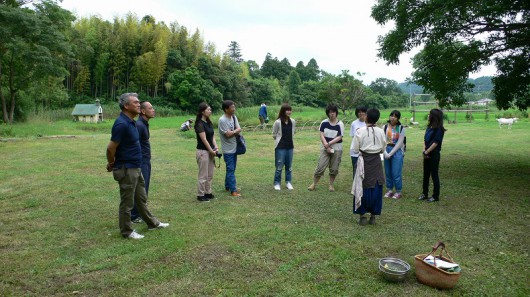 They are now renovating another old Japanese style house of the next-door. A couple of landscape gardener and sculptor from Ise-shima region were building bath, so we went to see them.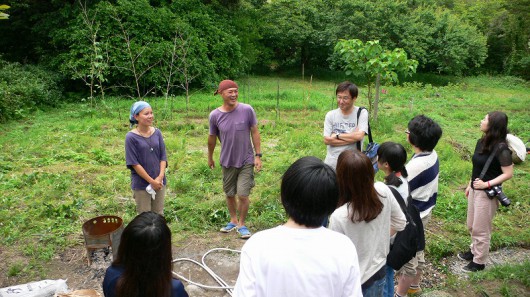 Then we walked to "Jijinoie" that located a few minute away from Brown's Field. It was also are nicely renovated old Japanese style house.
This facility was again used for the filming of NHK drama "Nanohana Line ni Norikaete".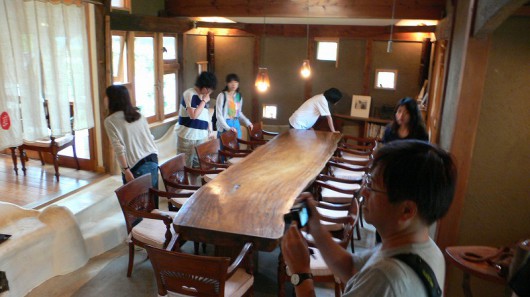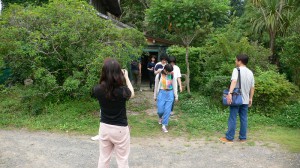 *Please be noted that Brown's Field and Jijinoie is personal properties. Please do not enter them without permission except for the café.
 
 
Taitosaki Todai (lighthouse)
Finally, we went to Taitosaki Todai (lighthouse).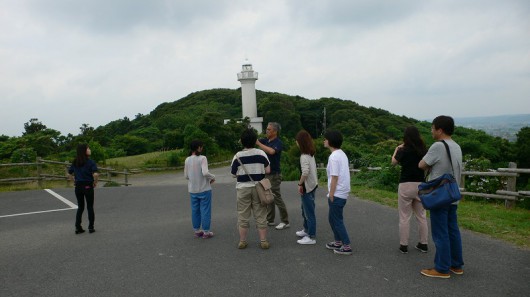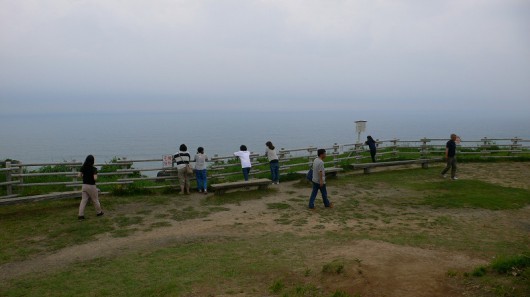 Everyone was relaxing in front of the magnificent view of the Pacific Ocean.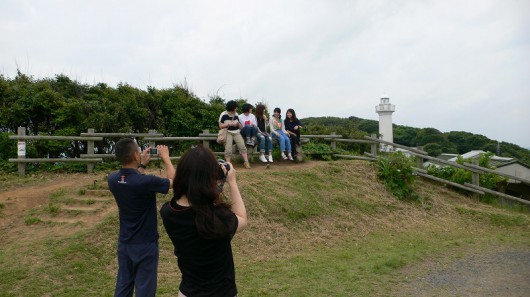 いUsually we never visit so many places during the tour we organize.
It was a tight, tough schedule. Great job everyone!
Boso Lifestyle Project had just started. We are excited to see what will happen.
( Zackey/Yasuko )

update : 2016/07/15 21:05

Category :
Diary
,
event reports