On November 11, 2015 (Wed), we participated in the workshop of a collaboration project between Isumi city and Musashino Art University Design lounge (D-LOUNGE) in Akasaka, Tokyo. (Event site: Isumi city hall)
This workshop was a part of the project in which they unearth and inform the public the attractiveness of Isumi and find out issues and solutions.
As this was a project among industry, government, academia and citizen, backgrounds of participants were varied.
Academia: Musashino Art University Design lounge (D-LOUNGE)
Government: Isumi city and Community-Reactivating Cooperator Squad
Industry: Concent, Inc., a design company that design the "shape of communication" (Dr. Atsushi Hasegawa, President, is a lecturer of Musashino Art University)
Citizen: Isumi Lifestyle Laboratories and Isumi citizens
Staff member of Concent, Inc. acted as facilitators.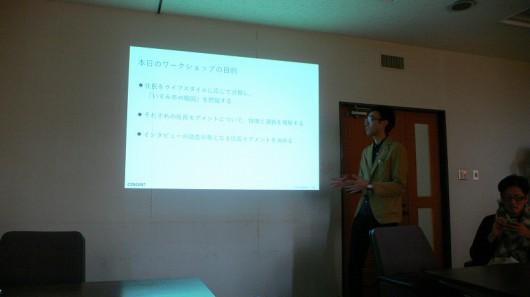 Participants were divided in 3 groups and had group work.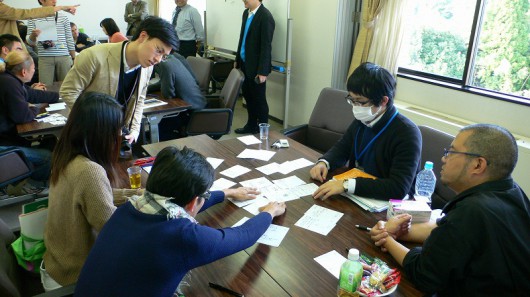 Member of Community-Reactivating Cooperator Squad, Isumi citizen, or staff of Isumi lifestyle Lab joined in each group.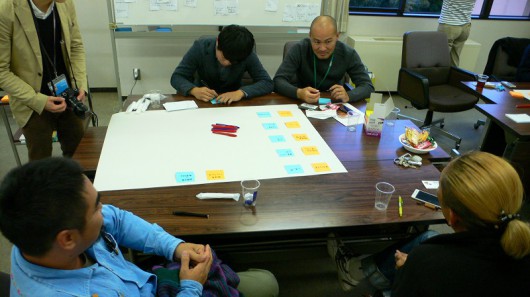 They exchanged information, discussed opinions, and considered ideas.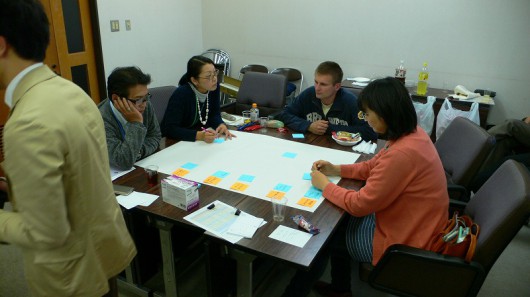 While participants were doing group work, Professor Inokuchi (left) from Department of Design Informatics as well as Director of D-LOUNGE had a pleasant talk with Mr. Hayakawa (right), Councillor of Isumi city.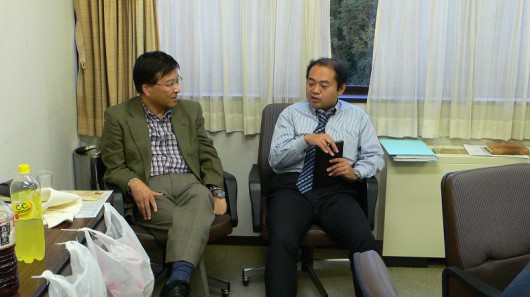 Participants presented results of each group work.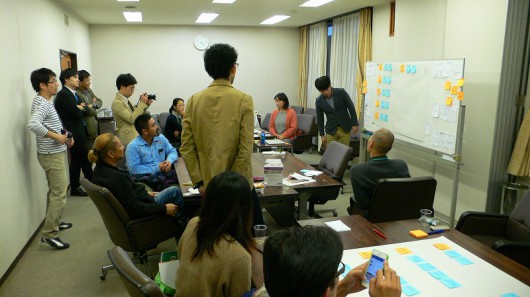 After they shared the discussion details, they had a further work to link them to the field work, and the task was finished for the day.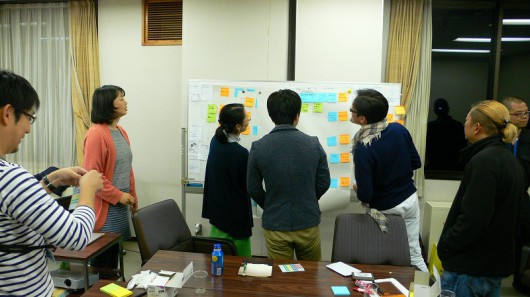 Starting with this workshop, they will have interviews with citizen and further workshops, and the final result presentation will be held in March in D-LOUNGE at Akasaka, Tokyo.
As collaboration projects with universities, we have accepted some students for field work in the past. This time however, we support the previous step, in some ways, support development of teaching material or development of basic research. It is the first experience for us Isumi lifestyle Laboratories and we are excited.
( Zackey / Yasuko )

update : 2015/11/24 20:02

Category :
Diary
,
event news
,
town events