"3rd Symposium on Creating Satoyama where People Live with Nature" was held on March 7th 2015 at Misaki community center.
The theme was "Let's hand over the rich nature and build the safe and secure agriculture for the future of children"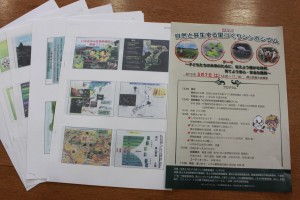 It started with a speech about "Biodiversity and creating strategy in Isumi-shi."
And then messages were given from the citizen. After that the panel discussion was held with Mr. Inaba, a lecturer of organic rice growing.
Many people were interested and participated in the symposium.
There were also elementary school students and they were listening earnestly.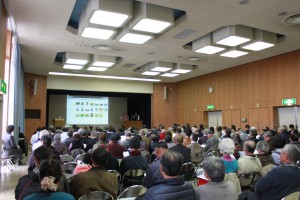 The message from the citizen was about creating satoyama, woodlands located near human habitat, exclusively in Isumi-shi.
Satoyama is an area where multiple environmental factors such as paddy field, vegetable field, stream, forest, and human are mixed.
In the symposium, I knew that the condition of satoyama in Isumi-shi was better among others in Japan.
People had been living in the environment with rich biodiversity in the old days, and the benefit of satoyama had been handed down, but now a lot of fields and woodlands of satoyama areas are abandoned and no longer cultivated or taken care. The influence extends even to the ocean.
But I knew that it is not too late yet.
For example, although the number of Miyako tanago (Japanese bitterling, fish) of nationally protected species is less than before, it is not extinct yet, and there is such fish in Isumi-shi.
Among these stories, the speech of Mr. Shinishi Tsurubuchi was very encouraging.
It was about what he felt about nature, relationship with people, and I felt his passion for rice-growing.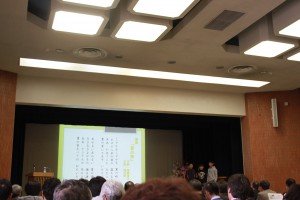 Afterward, 3 boys from 5th grade of Furusawa elementary school presented "Our wish" representing students.
Their frank comment regarding their fieldwork of rice-growing and observation on lives in the paddy field in the class was favorable.
I do not think that people know the nature very well just because they live in the countryside.
I felt the "real experience" is the most important.
The mood is different when children participate in the meeting!
The symposium was a good opportunity for me to see matters not as someone else's business, but as my own business.
You can read the whole texts of "Isumi biodiversity strategy".
( UI / Yasuko )

update : 2015/03/20 23:05

Category :
Diary
,
town events