Tours to meet people and experience life in Isumi have been held regularly, and many people asked us if there was any place to stay where they could experience to "live" in Isumi instead of visiting.
Why don't you take one step further and stay in a house in Isumi for a week to feel and experience the life here.
You are welcomed to stay in the place to picture yourself living in the country!
>>Duration of Stay: One week
* Please let us know your preferred dates of stay. We will get back to you with the available schedule and facility.
>>Usage Fee: Free
* No user charge. Until March 31, 2015.
>>Host Organization: NPO Isumi Lifestyle Laboratory
>>Information
・You must register with "Isumi-shi Akiya Bank (which provides you information of vacant house.)" The use is limited to people who consider relocation to Isumi.
・You will be asked to answer a questionnaire about the stay and keep a journal during the stay.
・There is no fixed schedule or plan offered from us during the stay. Please make your own plan.
・Our staff of NPO Isumi Lifestyle Laboratory will provide consultation on your relocation or town information etc.
・Usage fee of the facility is free, but the other fee and cost such as food, transportation etc. are your responsibility.
・Furnishings are vary depending on the facility. Please ask for the details before your stay.
→Contact form
・If you would like to apply to this "Trial Stay Program", please enter and send the form below.
→Inquiry Form
→Trial Stay Program Application Form (Sorry only Japanese)
This is a trial short stay program to create an image of your life in Isumi. We look forward to your application.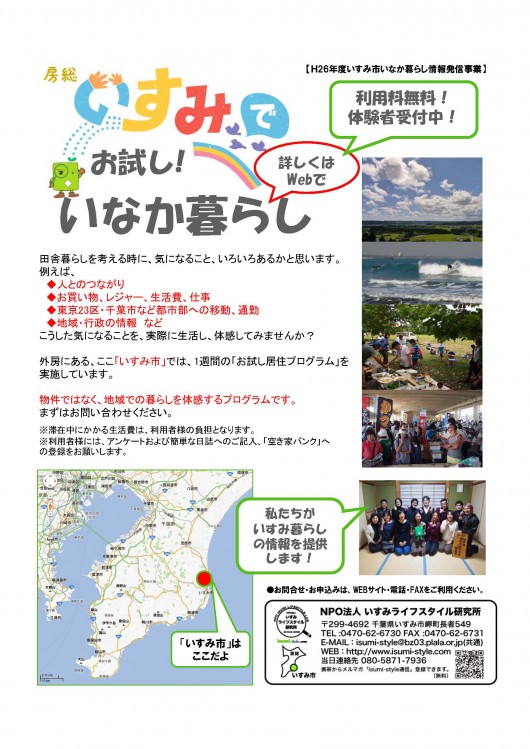 ( Miho / Yasuko )

update : 2015/01/23 17:52

Category :
information