Following last year, well-received "2nd Informative Tour to Sake Brewery & Cheese Factories" was held.
Approximately 17 people mostly from Chiba prefecture joined the tour.
We met at Ohara Station, and following an orientation at Isumi tourism center, we moved to a shopping street to visit Hokutosha, a renovated old Japanese-style merchant's house.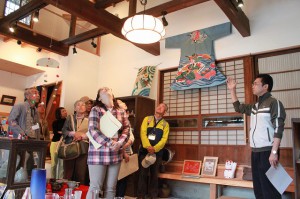 The owner wished to preserve this building, so that she renovated the building as a showshop for folk crafts of Chiba prefecture.
The owner also made a walking map of Ohara shopping street.
It is a nice map. Please find a map at Ohara station or Hokutosha when you visit Ohara and walk the shopping street.
Next, we visited a brewery Kidoizumi Shuzo.
Company president showed us around the brewery.
The pot and steamer to make steamed rice were the biggest tools I've ever seen.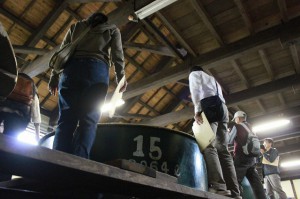 Most of the Breweries were mechanized nowadays. He explained their obsession with the traditional methods of making sake.
They have continued sake brewing considering tasty Koshu (aged sake) after maturation. (Sake with additive does not mature.)
"Shizenmai," one of their sake brand, is made of rice grown using natural farming method. It is costly and requires great care. We knew the meaning of sake brewing using rice with a strong life force and origin of their specialty for making real sake.
After the sake brewery tour, we tasted their sake.
Everybody couldn't stop smiling. They enjoy tasting the delicious sake.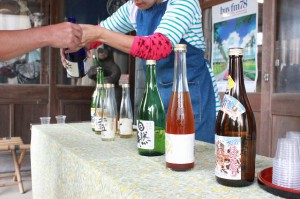 After enjoying tasty sake, before lunch, we visited cheese factory at Takehide Farm.
We were supposed to have lunch at the farm, but as it was rainy the day, we moved to former Chimachi Nursery School. There we had a catering lunch of Spice & Hurb and also compare the taste of cheese from 5 cheese factories in Isumi!!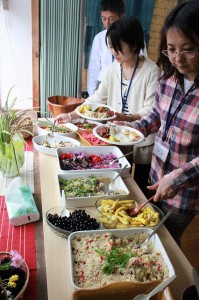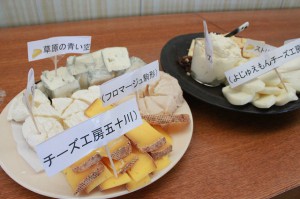 It was really a satisfactory menu.
The colorful Spice Lunch was made with local rice and vegetables.
The meat cooked with local blueberry was also very good.
In the afternoon, we visited 2 cheese factories.
"Cheese factory IKAGAWA" is a state-of-the-art cheese factory for me. They graze 2 Jersey cattles, and all tasks from milking to cheese processing are done by family members. It is my ideal style.

"Home-made cheese Daigoya" is the 5th cheese factory in Isumi. The owner is skilled and even built his house and factory by himself.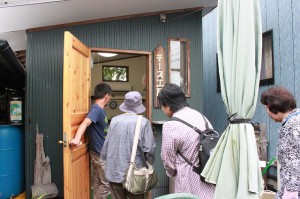 I feel all the people in these cheese factories practice "whatever you can do, do it yourself".
I wanted to show participants such point, so I introduced them these 3 factories this time.
The other factories are also doing great with a small scale according to their capacities.
I will hopefully introduce them another time.
Here is the tour video.

( Miho / Yasuko )

update : 2014/10/05 22:50

Category :
event reports