Hi,
Chimachi Market was again held this year lively!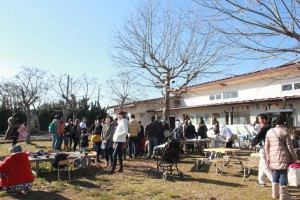 The New Year mood was almost over already, but we did "Mochi-tsuki (pounding Mochi)" to still enjoy the New Year mood.
It was surprising that so many people joined with us!
Mochi of the first round was quickly finished.
Some people were waiting that the rice cooked for the next round of Mochi-tsuki.
It seems everyone love Mochitsuki….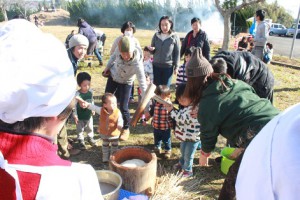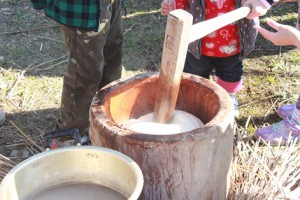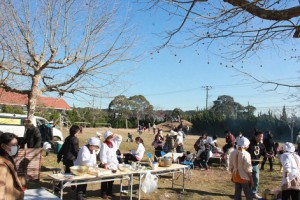 Local moms cooked (steamed) Mochi rice, and the rice was pounded by everyone. The Mochi was eaten as Oshiruko (red bean soup with Mochi) or Kinako Mochi (Mochi with sweeten soy bean powder), which was made by local moms.
They were soft and smooth, delicious!
Also we finally made Yakiimo (roast sweet potato) using a bonfire on this day, which was not possible in November and December because of rain.
The sweet potato was roasted slowly for 3 hours from the morning, and it was soft and fluffy.
We will make Yakiimo at Chimachi Market in February again!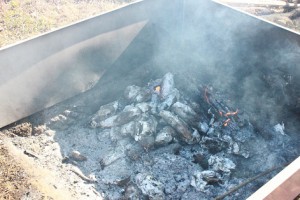 We had an excellent line-up of healing section this month
Healing, foot reflexology, moxa making by acupuncture clinic, and 2 traditional Thai massage shops (new shops).
They offered short trial course, so that it was easy to try.
I try something from healing section every time. It is relaxing to experience them while hearing voice of kids playing.
Why don't you try next time!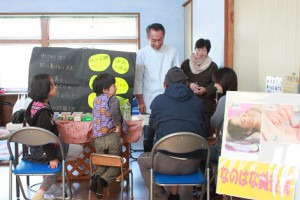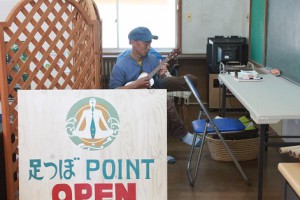 The next Chimachi market will be on February 14 (Sun), on Valentine's Day♪
We will have enjoyable events such as music concert, Yakiimo, kid's maze, etc. Please come and visit.
The details will be updated in this blog. Please check!
( Naomi / Yasuko )

update : 2016/01/18 14:38

Category :
Diary
,
event reports