It's been half a year since we held "Making Hand-made Miso 2014" on February 24.
On that day, 15 people joined from around Isumi to prepare hand-made miso.
See details for the previous event.>>
Although the miso was supposed to be distributed to the participants in November when the miso becomes more matured, we decided to do it earlier. The miso, however, was already matured after little more than half a year!!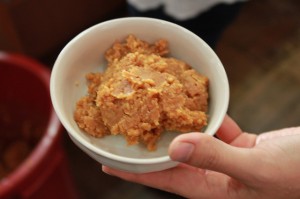 10 participants joined this day in spite of the short notice.
In February we prepared 50 kg of miso. We did not invert top and bottom part of miso.
(I learned from a local grandma to put a weight on miso and then water comes up. It makes salt mixed to the entire part of miso.)
We compared the taste of top, middle and bottom part of the miso.
The top part was salty, the middle tasted so-so, and bottom sweet.
In order to distribute the miso with a proper valance, we packed 1 kg each mixing each part together.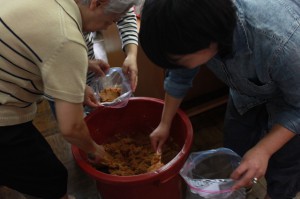 We all worked together, so it finished quickly.
After the work, we made rice ball and ate it with miso!!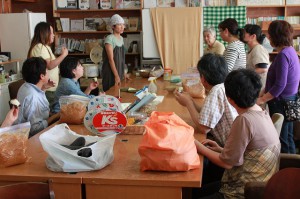 We compared the taste of 2 miso (one was prepared 1 and half a year ago, and the other half a year ago) How was the taste!?
The new miso of this year was very sweet and I felt a taste of soybean!
The matured old miso was little salty with "umami (rich taste)", and I felt like eating more and more.
I didn't know rice ball with miso was so good! It was amazing!
We were not sure if we hold this event next year, but the participants said "I'd like to work together again", "I'd like to make Koji (one of the ingredient of miso which is made of rice) as well."
So that we are considering to hold "Making hand-made Koji" next time.
Participants were happy to have tasty miso.
It's really enjoyable to work together with chat.
Such our happy feelings might be reached to our miso. It became really tasty.
Thank you very much everyone!
It is nice to enjoy working and also enjoy waiting.
I look forward to work together again.

update : 2014/09/15 15:20

Category :
event reports