NPO members and I attended a meeting of "Branding Project for Isumi Organic Rice" held on June 24, 2015 at Isumi government buildings at Ohara.
This meeting was hosted by the "Liaison association for creating hometown where people live with nature"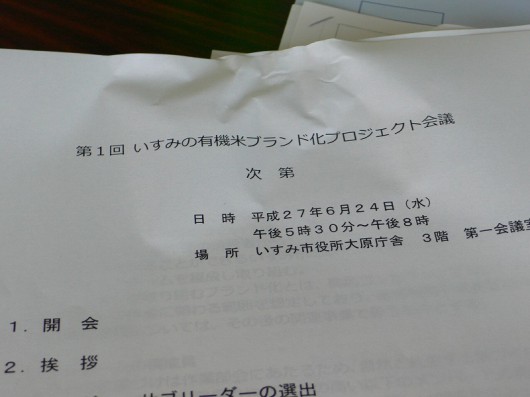 This liaison association was organized last year and was operated "for the purpose of promoting revitalization of local community through conservation and reproduction of natural environment of the local forest, the area surroundings, and the local sea and contributing to the development of attractive local community where people live with nature with sustainable biodiversity." (code)
This association has the following three working groups and they discuss local issues:
Nature conservation/biodiversity liaison working group
Environmentally-sound agriculture liaison working group
Local economic development liaison working group
"Branding Project for Isumi Organic Rice" is one of the associated projects of this year.
The kick-off meeting was held this time.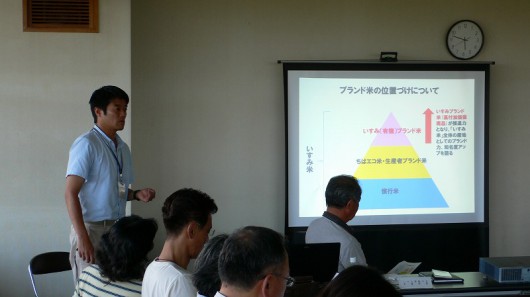 An explanation about the history, organic farming and consumption trend was provided by the executive office, and the branding strategy was provided by Mr. Ito of Environmentally-sound agriculture liaison working group.
Thereafter, the participants were divided into 3 groups and analyzed factors such as appeals, characteristics and its influence to the region of Isumi Rice (Specially Cultivated Rice [no agricultural chemical and no chemical fertilizers are used during cultivation period.] ), which would be a premise of branding.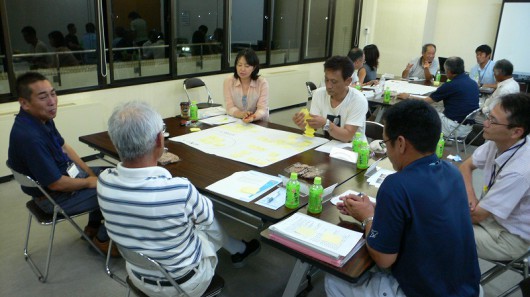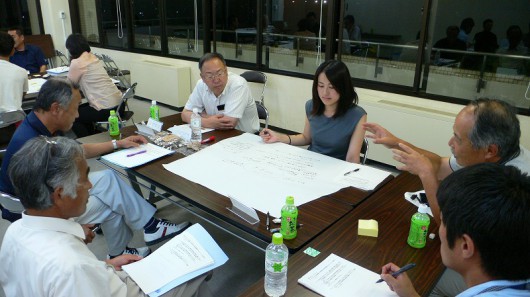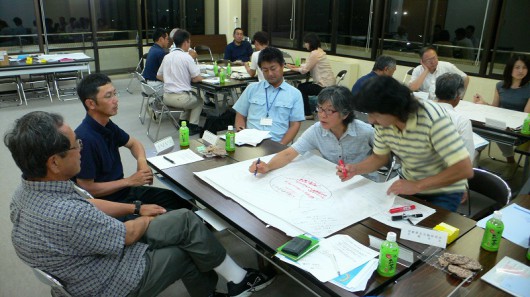 It was good to know the following information in this meeting:
– The Specially Cultivated Isumi Rice was adopted for the school lunch at elementary and secondary schools in Isumi city this year. However, while 12 ha paddy fields are needed to cover the amount, there are only 4.5 ha of fields where they grow the Isumi Rice. Hence, the production cannot afford even only school lunch.
– The producers who have worked hard to grow tasty rice and consequently had to use agricultural chemical and chemical fertilizers, and the producers who have worked hard to grow safe and secure rice rather than tasty rice seldom had a contact in Isumi city, but it was realized through this association finally. It may be possible for them to understand each other and assimilate each other in the future.
I knew through this meeting the difficulty and depth that even we know that organic products with no agricultural chemical is good, it is difficult to realize it at production site, and further to make it as a job for living or to expand it as a local industry.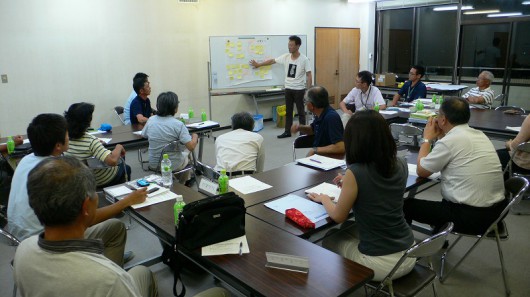 The next meeting will be held in early July.
( Zackey / Yasuko )

update : 2015/06/27 19:10

Category :
Diary
,
town events