Specialty of spring in Isumi is not just scenery of cole flower and Isumi railway!
There are much more options including Kurabiraki (Opening of a brewery for the first time in the year) of brewery Kidoizumi Shuzo, and strawberry picking.
Come and visit Isumi to enjoy early spring.
Each event is held on different dates.
Please check with the organizer/host of the event in advance.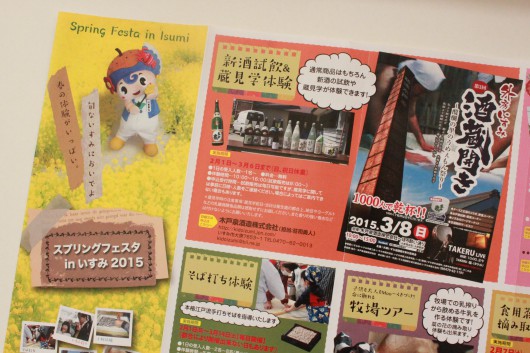 >>Tasting of freshly made sake & sake brewery tour
Duration: February 1, 2015 (Sun) toMarch 6, 2015 (Fri,Except for Sunday and national holiday) 10:00 – 16:00
Fee: Free
>>Sotobo Isumi Kurabiraki – Daigo no Sato Umemon Matsuri-
Date: March 8, 2015 (Sun) 10:00 -15:00
Collaboration of cheese and Koshu (matured, aged sake), Tasting and sale of sake of brewery Kidoizumi , Isumi food market, Free Amazake
Fee: Free
Contact:kidoizumi shuzo(Brewery Kidoizumi Co. Ltd) 0470-62-0013
>>Strawberry Picking in Isumi
Duration: until May 31, 2015 (Sun) 10:00 –
Fee: Please check with farms as the fee vary depending on the season
Contact: Isumi no Ichigo Hachibe Ichigo En 090-8580-4115
    Isumi no Ichigo Masuda Ichigo En 0470-87-3672
>>Making Soba
Duration: February 1, 2015 (Sun) – March 14, 2015 (Sat)
Fee: 2500 yen
Location and Contact: Misaki Soba Kobo 0470-87-2074
Duration: February 15, 2015 (Sun) *buckwheat flour made in Isumi will be used
Fee: Spring Festa Special price 1500 yen
Location and Contact: Handmade Soba Hiraga 0470-87-3036
>>Farm tour
Duration: Every Saturday and Sunday between February 1, 2015 (Sun) to March 9, 2015 (Mon)
Fee: Infant free; Before Elementary school 500 yen; Elementary school student and elder, 1500 yen;
* Advance booking is required
Contact: Takahide Farm 0470-86-2131
>>Cole Flower (Leaves) Picking
Duration: February 7, 2015 (Sat) to March 15, 2015 (Sun) 10:00-14:00 *Open on Saturday and Sunday only
Fee: 300 yen All you can stuff bags of cole flower leaves
Contact: 090-2737-2928
>>Making Dried Sardines (Mezashi)
Duration: February 1, 2015 (Sun), 8 (Sun), 22 (Sun) 10:00 -12:00
Fee: 300 yen 
Contact: Isumi Toubu Gyokyou Kyoudou Kumiai (fisheries cooperative) 0470-62-0111

update : 2015/01/25 23:24

Category :
information
,
town events