Our loco market, 'Chima-Chima' is coming on this Sunday, 11th.
Here comes kids recycling flea market this time!
mainly for kids recycling stuff but of course there will be any other recycling things, too.
Wanna sell your stuff? Please see the below, anybody can come and join our flea market.
Clean your house today, bring your recycling stuff tomorrow!
There also will be some food shops (local sushi(a.k.a. mom's soul food in Isumi), ramen, bread, rice balls, and coffee), handmade goods shops, healing workshops(oracle card reading, channneling, chatting therapy, all in Japanese).
Come and enjoy our market with nice weather!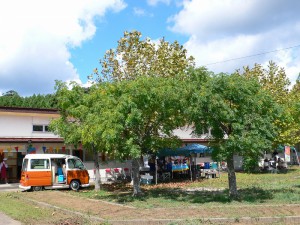 Chima-Chima(Isumi Life Market in Chimachi)
Date: May 11th 2014(Sun) 10:00 – 15:00
Place: former Chimachi Nursery School (2858 Matsumaru, Isumi City)
→click here to see 'what's Chima-Chima' and a map
Flea market
Place:'Tsudoi-no-ie'(Right next to Chimachi Nursery school)
*Expense to have your own booth:500 yen
*Take your rest of your staff back after the market, please dont leave them at the market.
(Akko/Aiko)

update : 2014/05/10 11:57

Category :
event news